LHSF Stadium Project
The long awaited construction of Phase II of the Foundation's Stadium Project has finally begun. After many delays, the bleacher, restroom building and press box building permits were finally approved in January, and Hawaiian Dredging Construction Company has been making considerable progress since then.
We are still in fund raising mode, as unforseen expenses for a construction project of this magnitude are always possible. We are also looking forward to the day when our magnificent Hellas Matrix athletic field and synthetic track will need replacing. To help with our stadium funding, click on any one of the donate buttons and make sure you designate "other" in the donation category, then write in "stadium project" in the comment box.
I will keep posting new pictures of the progress that we have made on a regular basis, and you can follow those changes by going to the Stadium Project page.
Notice
Our FAX number has changed. Our new Fax number is 808-442-9053. This new service will direct all incoming faxes to our computer, not only cutting down on paper costs, but will reduce our fax number expenditure by 80% .
Graduation Countdown Begins!
The Foundation has been working with 29 scholarship donors, who will be providing 49 scholarships, for a record amount of $185,000 in available funds this year! The Foundation has had the priviledge of awarding more than $600,000 in scholarship funds we have administered since the program began in 2002.
The application form will be available soon through the school's college and career center.
Project Grad
Capping off the graduation ceremony in May, once again the LHS PTSA will be providing graduating seniors with Project Grad, the all-night, alcohol & drug-free party. The major source of funding for the event comes through Title Guaranty's Legacy Cup Golf Tournament, which will be on April 5th. Click on the above link for a video of last year's event, and this link for more information.
Donor Recognition
Our apologies for neglecting to recognize Dr. James Kumagai's (Class of '52) $1,000 donation for the 2013 Lahainaluna Teacher Scholarship in the November issue of our newsletter. Dr. Kumagai started the scholarship in 2005 and has continued it every year since then. We are pleased to announce that the Teacher Scholarship for 2014 has been renewed. Mahalo Dr. Kumagai!
3rd Annual Legends of Lahainaluna Awards

The Lahainaluna High School Foundation presented the 3rd Annual Legends of Lahainaluna Awards, on Thursday, November 21, at the historic Pioneer Inn. The awards were created to honor alumni, staff, community members and businesses who have significantly contributed to Lahainaluna, or in the case of alumni, the community in which they live. The winners will be recognized from three categories, Individual, Posthumous, & Business or Organization.

This year's honorees were Hellas Construction in the Business Category, Mary J. Bolder was honored posthumously, and Reverend Earl Kukahiko was the honoree in the Individual Category.

Last year's winners included The Makana Aloha Foundation in the Business/Organization category, Alice K.K. Banham (1896-1956) for the Posthumous category, and Andrew Kutsunai & Sue Cooley were both chosen to receive the Individual award.

This year's event was sold out and event attendees enjoyed a light bpupus, a buffet dinner & dessert, hosted bar, entertainment, and awards ceremony.




Pride & Spirit Paver Now $100!

Be a part of the Lahainaluna Stadium. Construction on Phase 2 will begin soon and orders for brick pavers will end on December 31st. All existing pavers and new pavers will be installed when construction has been completed. Don't miss out! Download the order form today.

6th Annual LHS Class Challenge





2013 event was a huge success! To see the winner's list from the event, click on this link!


The Annual Online Auction was held from September 1st through September 15th. Nearly 50 donors provided approximately $20,000 in catalogue value, netting the Foundation nearly $8,000. Mahalo to all our auction donors, a list of which, is provided here.

The auction is the only fund raiser that is held by the Foundation for its own financial benefit. We encourage all Foundation supporters to help our efforts by assisting with acquiring donation items. If you are directly connected with a business that has an auctionable product or service, please contact Jeff at (808) 661-5332. You can help us by forwarding a donation request letter on your own, or providing us with the business name and contact information.

Bidders come from all over hawaii and the mainland, so it doesn't matter where you live or work, every dontaion will add to the catalogue value.

Ka Leo O Ke Kahua O Lahainaluna

(click the link above to view)

Foundation Assumes New Leadership

Rob Shelton, the Board President since the inception of the organization in 2000, stepped down from the position in October 2013. The new board president, Mark Tillman, remarked "He is truly a giver and he demonstrated it with every opportunity afforded him. So much of what he did was done behind the scenes, not wanting the spotlight on himself but only to make this a great high school for all those who attend. He and wife Louisa are the epitome of Lunas for Life!" Rob continues to serve as a board member, but his service to this organization will be felt for decades to come.

There has also been a change in the Executive Director position, as Matt Erickson has accepted a new job position on the mainland. The LHSF Board of Directors placed Jeff Rogers, Development Coordinator, in the position as Interim Executive Director.




2nd Annual Legends of Lahainaluna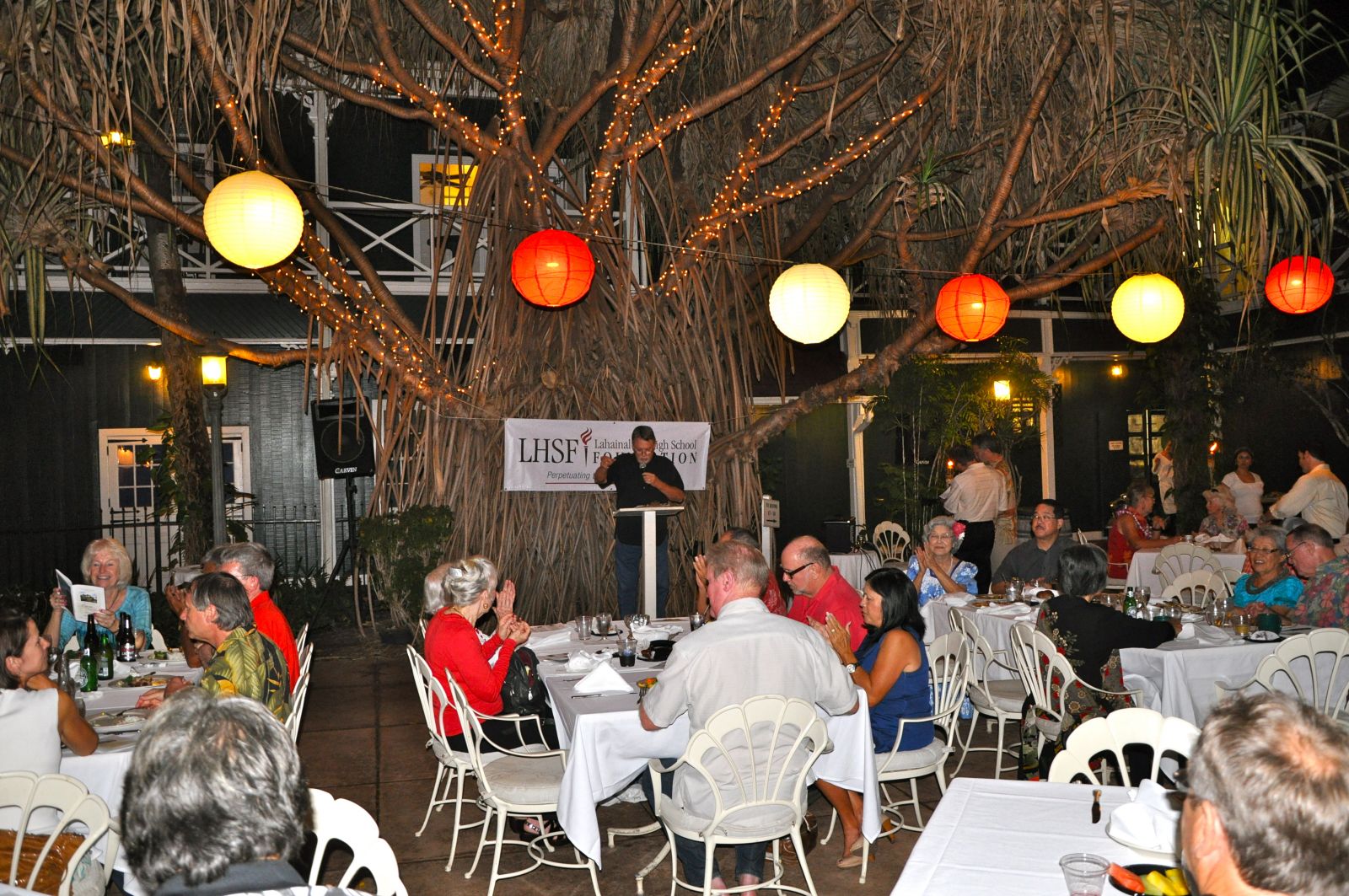 The 2nd Annual Legends of Lahainaluna was another memorable event for Lahainaluna alumni and other supporters. An enthusiastic crowd enjoyed appetizers and desserts provided by Alton & Laurie Lei DeGama, buffet dinner, entertainment by Al Nip, ESPN Sports personality Neil Everett as emcee, and of course, the awards ceremony.
This year's honorees included the Makana Aloha Foundation in the Business/Organization category, Alice Banham was honored posthumously, and Andrew Kutsunai & Sue Cooley were Honored in the Individual Catergory.
Congratulations Leilani's on the Beach on 30 Years of Aloha!
Leilani's on the Beach and TS Restaurants have been wonderful supporters of Lahainaluna High School and Lahainaluna High School Foundation through the years. Here's a short video vimeo.com/45984771 featuring former LHSF Executive Director, Matt Erickson taking part in Leilani's 30th Anniversary Celebration and accepting a $1,000 check through their "Legacy of Aloha".

2012 Class Challenge A Huge Success
Congratulations to Mike Miyabara and his committee members Ramsay Morisaki and Arnold Prepose on planning and executing another year of fun, camaraderie and memories through the 2012 Class Challenge Golf Tournament. Held on June 8th at the Pearl Country Club on Oahu, the mini-class reunion of a tourney drew a field of almost 150 players. Lahainaluna High School Foundation is honored to have been beneficiary of this fun-raiser, receiving almost $19,000 this year and over $90,000 in the five years the tournament has been held. Special mahalo to Charlene Wen for documenting the particpants' take off from the clubhouse. It was certainly a memorable day!.
Lahainaluna High School Stadium Video

Community Brick Paver Fundraising Program
The Pride & Spirit Paver is now only $100!!
Be a part of "The Vision" For the Lahainaluna High School Stadium! Download the form and be a part of the Lahainaluna High School Stadium! Deadline for new orders is December 31st, 2013.
Like our LHSF page on Facebook or Follow us on Twitter!


Lahainaluna High School Foundation Strategic Plan is available here.

One of the many ways to support the Lahainaluna High School Foundation is by Gift Giving. Your time and gifts are appreciated.