6th Annual LHS Class Challenge to be held August 2,


at Waikele Country Club

Pride & Spirit Paver Now $100!

Be a part of the Lahainaluna Stadium. Construction on Phase 2 will begin soon and orders for brick pavers will end this September. All existing pavers and new pavers will be installed before the end of the year. Don't miss out! Download the Order Form today.


Foundation Assumes New Leadership

Rob Shelton, the Board President since the inception of the organization in 2000, stepped down from the position in October. The new board president, Mark Tillman, remarked "He is truly a giver and he demonstrated it with every opportunity afforded him. So much of what he did was done behind the scenes, not wanting the spotlight on himself but only to make this a great high school for all those who attend. He and wife Louisa are the epitome of Lunas for Life!" Rob continues to serve as a board member, but his service to this organization will be felt for decades to come.

There has also been a change in the Executive Director position, as Matt Erickson has accepted a position on the mainland. The LHSF Board of Directors placed Jeff Rogers, Development Coordinator, in the position as Interim Executive Director.




2nd Annual Legends of Lahainaluna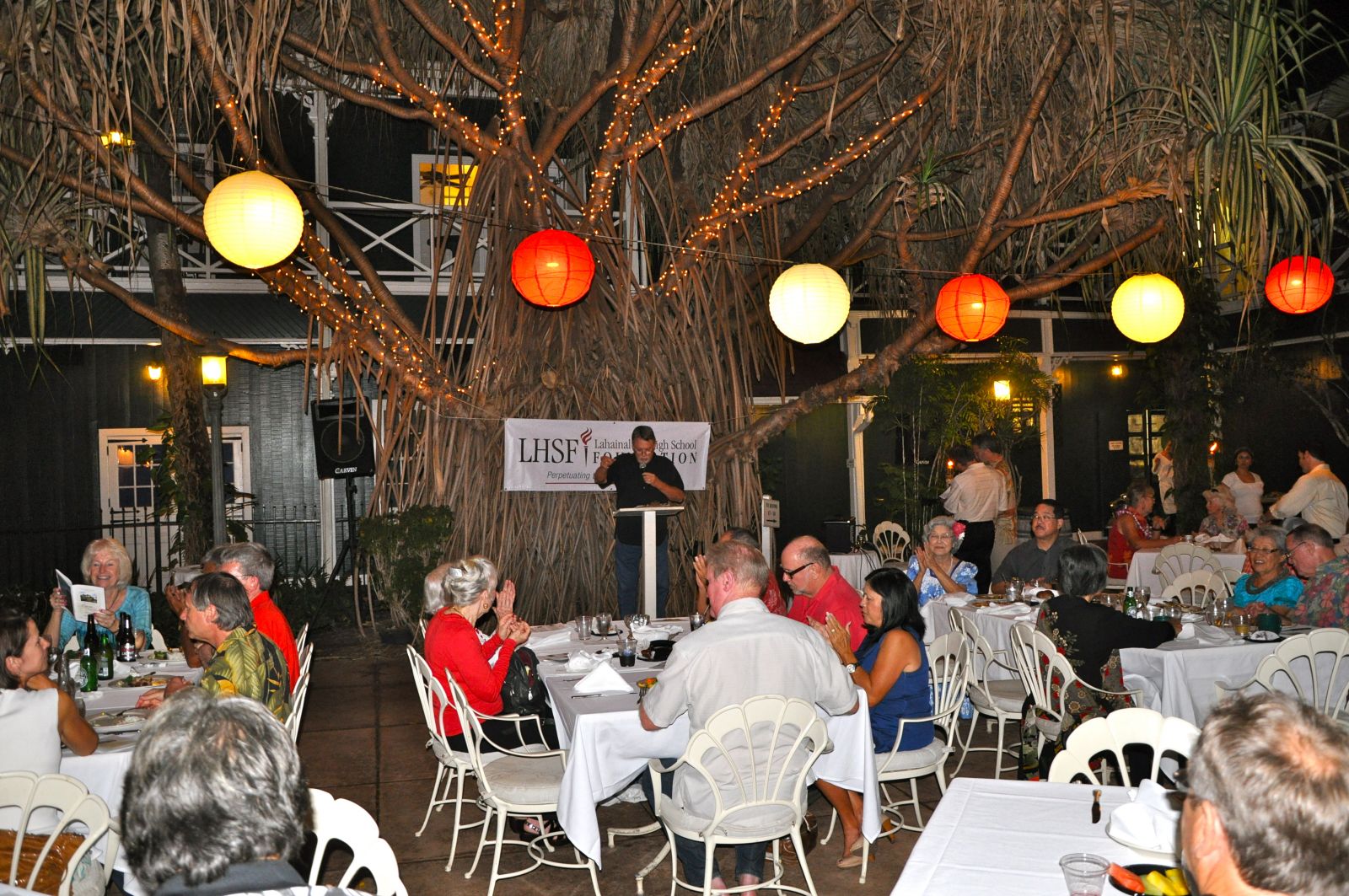 The 2nd Annual Legends of Lahainaluna was another memorable event for Lahainaluna alumni and other supporters. An enthusiastic crowd enjoyed appetizers and desserts provided by Alton & Laurie Lei DeGama, buffet dinner, entertainment by Al Nip, ESPN Sports personality Neil Everett as emcee, and of course, the awards ceremony.
This year's honorees included the Makana Aloha Foundation in the Business/Organization category, Alice Banham was honored posthumously, and Andrew Kutsunai & Sue Cooley were Honored in the Individual Catergory.
Congratulations Leilani's on the Beach on 30 Years of Aloha!
Leilani's on the Beach and TS Restaurants have been wonderful supporters of Lahainaluna High School and Lahainaluna High School Foundation through the years. Here's a short video vimeo.com/45984771 featuring former LHSF Executive Director, Matt Erickson taking part in Leilani's 30th Anniversary Celebration and accepting a $1,000 check through their "Legacy of Aloha".

2012 Class Challenge A Huge Success
Congratulations to Mike Miyabara and his committee members Ramsay Morisaki and Arnold Prepose on planning and executing another year of fun, camaraderie and memories through the 2012 Class Challenge Golf Tournament. Held on June 8th at the Pearl Country Club on Oahu, the mini-class reunion of a tourney drew a field of almost 150 players. Lahainaluna High School Foundation is honored to have been beneficiary of this fun-raiser, receiving almost $19,000 this year and over $88,000 in the five years the tournament has been held. Special mahalo to Charlene Wen for documenting the particpants' take off from the clubhouse. It was certainly a memorable day!.
Lahainaluna High School Stadium Video

Community Brick Paver Fundraising Program
The Pride & Spirit Paver is now only $100!!
Be a part of "The Vision" For the Lahainaluna High School Stadium! Download the form and be a part of the Lahainaluna High School Stadium!
Like our LHSF page on Facebook or Follow us on Twitter!


Lahainaluna High School Foundation Strategic Plan is available here.

One of the many ways to support the Lahainaluna High School Foundation is by Gift Giving. Your time and gifts are appreciated.