Scholarship Donors
Maureen Setsuko Ariyoshi Memorial
The Maureen Setsuko Ariyoshi Memorial Scholarship was created to honor the late wife of retired LHS Principal, Henry Ariyoshi. The $1,000 scholarship is open to students going into the hospitality, tourism, or other visitor industry related field.
Luly Baker
The $1,000 Luly Baker Scholarship awarded its first scholarship in 2016. The scholarship is made possible through donations from Luly Baker, a former teacher at Princess Nahi'ena'ena Elementary School and was created to assist her former students, especially those with financial need.
Bank of Hawaii
The Bank of Hawaii scholarship was created to assist in the financial needs of a student declaring studies in business, finance, or accounting. This award for this scholarship is $1,000.
Boss Frog's Dive & Surf
The Boss Frog's Scholarship was started in 2010. This award for this scholarship is $1,000.
Kiiko & Juan Cabanilla Sr. Memorial
The $1,500 Kiiko & Juan Cabanilla Sr. Memorial Scholarship began in 2017.

Through great courage, hard work, commitment to their dreams of achieving a better life, and dedication to each other and their family, Kiiko and Juan Cabanilla, Sr. left behind a legacy far beyond what they could have imagined when they married in April 1939. They are the parents of nine children and ancestors of 80 plus descendants spanning five generations.

As a young man, Juan left his homeland to toil in the hot sugar fields of Maui in pursuit of a better life for himself and his family in the Philippines. A sakada, Juan never saw his parents again, returning to his homeland only once after he retired from Pioneer Mill Company. Kiiko (aka Doris), daughter of immigrant parents from Okinawa, was born in Laupahoehoe, Hawaii and later moved to Maui with her family. She grew up in what was once Olowalu Village situated in between Launiupoko and the pali. Life for Kiiko was also full of back-breaking hard work. One of her tasks was to help her mother wash and deliver laundry for Filipino bachelors working in the cane fields of Lahaina. It was in this way that Kiiko and Juan met and fell in love.

Kiiko and Juan defied the cultural norms of the time which frowned upon interracial marriage. They married against strong family dissent. No doubt it was heartbreaking and difficult for Kiiko to find herself ostracized from her parents and family. If raising nine children wasn't a monumental task in itself, Kiiko also worked in the Lahaina pineapple cannery. Kiiko was an excellent cook of both Japanese and Filipino food and sang beautifully. She was kind, beautiful and loved life.

Throughout the years, Kiiko and Juan sent whatever money they could spare to help his family in the Philippines. Juan later petitioned for his youngest and only surviving sibling to immigrate to Hawaii, resulting in the establishment of a second long line of Cabanillas in Lahaina and elsewhere. Unfortunately, Kiiko passed away at a young age, leaving behind nine children for Juan to raise. Singlehandedly, he cared for his large family, the youngest being only 1-1/2 years old and the eldest, a sophomore in high school, at the time of Kiiko's passing.

To supplement the meager pay Juan earned working for the plantation, he raised pigs and chickens and grew a garden of Filipino vegetables. Even while struggling to keep food on the table for his nine children, Juan continued to send money to his family in the Philippines as often as he could. Juan was a strict disciplinarian, never hesitating NOT to "spare the rod and spoil the child". As adults, his children look back in wonder, awe, and respect at how Juan managed to raise all nine of them without any ending up in prison or serious trouble with the law.

Kiiko and Juan valued education. She would stay up late into the night helping her oldest son with his homework and playing classical music for him on the radio. Despite having only a grade school education, Juan worked his way up from field laborer to supervisor, before his retirement from Pioneer Mill. Recognizing the importance of education and knowledge, he bought a set of used encyclopedias and a reading kit for his children with limited and.ard earned money. Although Juan was unable to provide monetary support for his children to attend college, he was always encouraging and supportive in other ways. Amongst Kiiko and Juan's numerous descendants, six have advanced college degrees or professional certifications and licensures. Others have achieved or are working on varying levels of college or other post-secondary education.

It is because of Kiiko and Juan's great courage, hard work, commitment to their dreams of achieving a better life and dedication to each other and their family that this scholarship is established and granted to another dreamer who is willing to work hard for a productive future. It is our hope that one day you, too, will continue the legacy of Kiiko and Juan Cabanilla, Sr. by giving back to your family and community. Best of luck!
"We cannot discover new oceans until we have the courage to let go of the shore." ~ Muriel Chen
Central Pacific Bank-Lahaina Branch
The $1,000 CPB-Lahaina Branch Scholarship began in 2009, through the efforts of senior vice-president Alvin Imada and branch manager Issac Pena-Parrilla.
Mark & Judy Ellman
2016 was the inaugural year for the Mark & Judy Ellman Scholarship. The award is for $500. Mark & Judy Ellman own & operate three popular West Maui restaurants; Honu Seafood & Pizza, Mala Ocean Tavern and Fridas Mexican Beach House.
Bonnie Ann Fijal Memorial
The $500 Bonnie Ann Fijal Memorial Scholarship was introduced in 2017.
Front Street
The Front Street Scholarship is a renewable scholarship that awards up to $33,775, annually. The scholarship began in 2012 and has not been awarded to a new recipient since 2014. The Front Street Scholarship came back in 2016 for what may be its last year. The donor wishes to remain anonymous.
Ebrahim Albert Gabbay,M.D. Memorial
The E.A. Gabbay, MD Memorial Scholarship was created in memory of E. Albert Gabbay, M.D., a prominent obstetrician and gynecologist from Baltimore, Maryland. The purpose of this scholarship is to encourage students of Lahainaluna High School to continue their education beyond high school and to assist with their financial needs. The $1,000 scholarship began in 2013 and is funded by Dr. Gabbay's daughter, Suzanne.
The Kihachiro J. Hotta Memorial Endowed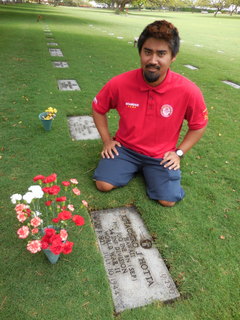 The Kihachiro J Hotta Memorial Scholarship was established in 2001 with gifts from Shoma and Elsa Hotta and E. J. & L. Corporation. The purpose of the scholarship was to encourage students, with preference to Boarders, to continue their education at a four-year college or university. In the selection process, consideration is given to financial need and good character. The Hotta Scholarship was established to honor Shoma's brother, a member of the 44n2nd, who was killed in action on July 10, 1944. The Hotta has awarded up to $2,000 in certain years.
Pictured at the grave of Kihachiro J Hotta, is the 2015 recipient, Ken Brito.
Shigeru & Toyoko Ichiki Endowed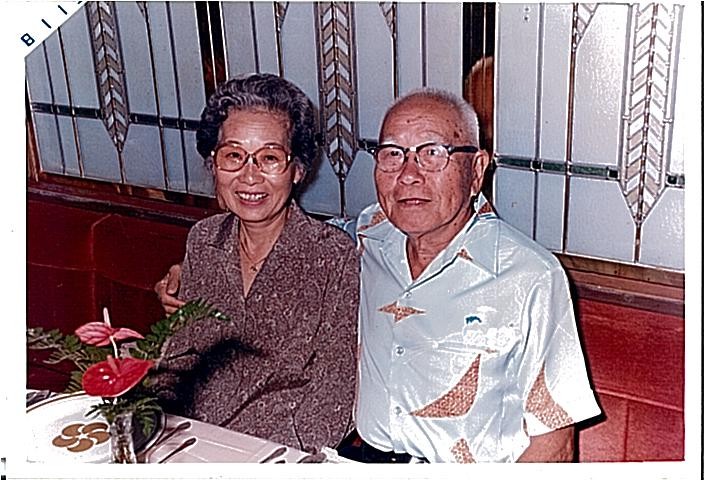 The Shigeru & Toyoko Ichiki Endowed Scholarship was established in 2007 by a bequest from the late Albert Ichiki, Class of 1954, in honor of his parents, Shigeru and Toyoko Ichiki. Albert Ichiki funded an endowment which is managed by the Hawaii Community Foundation and is administered by the Foundation. This awards of this renewable scholarship can vary from year to year, depending upon the performance of the fund's portfolio. In recent years, the award has reached $10,000 per student.
Mr Ichiki's stated wish was to "help and assist a worthy Lahainaluna student who has displayed academic effort, good work ethics, and character, in the last one or two years of high school:"most notably in the senior year." This scholarship gives preference to late "intellectual" bloomers ad for those who are probably not eligible for assistance by other scholarships.
Ilocandia Filipino Store
The $500 Ilocandia Filipino Store Scholarship began in 2011.
Fred Izumi '52 Legacy
The Fred Izumi '52 Legacy Scholarship began in 2006 and awarded $2,000 to graduating seniors at LHS. The scholarship was made possible through a 10 year annuity donated by Fred Izumi ('52). The final Izumi award was made in 2016.
Sammy Kadotani Service Award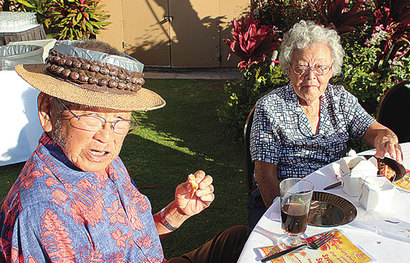 Sammy Kadotani (1923 - 2015), the man with the straw hat, the man on the bike, the brick man, and the unofficial mayor of Lahaina, was a lifelong resident of West Maui and a graduate of Lahainaluna High School. Sammy was a selfless and dedicated volunteer in the Lahaina community, having served our town in various ways over the years. From large projects and fundraisers, small favors for neighbors, friends, and strangers alike, and everything in between, you could always count on Uncle Sammy. His generosity of time, spirit, and aloha were matched only by his humility. There is no better way to honor Sammy's legacy than to give back to our community by donating our time, services, and resources to our local schools, organizations, churches, neighbors, and those in need.
Brian Kelly Memorial Music Scholarship
Inaugural year: 2019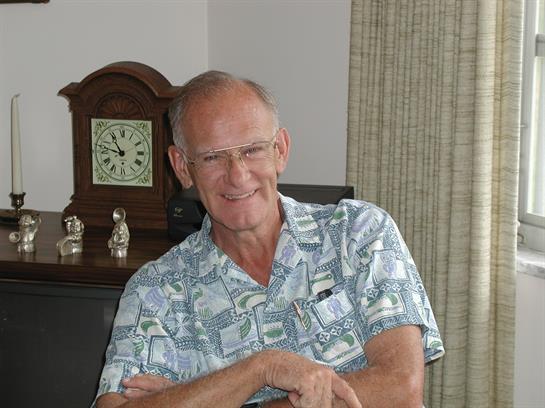 Brian Kelly was the LHS Band Director for 30 years and a founding member of the Lahainaluna High School Foundation. The scholarship has been endowed by Glenn & May Tansley, but is dependent upon additional gifts to increase the award amount.
Brian was born in Detroit, Michigan on the 19th of May in 1945 and died in
Dunedin, Florida on January 23, 2019. He is survived by his beloved foster
son Yew Teck (William) Tan of Schenectady, NY, his sister Jean A. Hurchalla and her husband George of Palmyra, VA, nephews David and Jeffrey, and niece Elizabeth.
Education:
High School: Redford High School, Detroit, Michigan
Colleges: Spring Arbor College, University of Michigan, University of Hawaii
Degree: University of Hawaii - Bachelor of Music Education
Career: Ferry Elementary School teacher, Detroit, Michigan 1965 - 1967
Music Teacher, Band Director, Music Department Chairperson, Lahainaluna
High School, Lahaina, Maui 1971 - 2001.
Honors Received:
• Outstanding Music Student for two years in high school
• Outstanding Music Student at University of Hawaii
• Included in Who's Who Among America's Teachers, 1992
• American Hall of Fame Director's Award
• John Philip Sousa Foundation - Laureate for the Legion of Honor Award, 1993
• Sudler Order of Merit of the John Philip Sousa Foundation in recognition of
many special contributions to the excellence of bands and band music, 1993
• Volunteer Center of Maui County - "Hale Lima 'Akau" County Council of Maui
Teacher Appreciation - Dedication and Commitment to Education, 1997
• Conducted (Guest Conductor) Maui District Intermediate Massed Band, 1998
and Maui District High School Honor Band, 2006
• Conducted United States Collegiate Wind Band Internationally
Dr. James Kumagai Teacher Scholarship
The $1,000 Dr. James Kumagai, PhD, Teacher Scholarship began in 2006 and is awarded to a teacher who is continuing their education. The scholarship is made possible by Dr. Kumagai, a 1952 graduate.
The Matsue and the late Hisao Fujii Teacher Recognition Award
The $1,000 Fujii Teacher Recognition Award was established in 2011 and recognizes a teacher who not only has exceptional teaching skills but one who has been an inspiration to students to better themselves as productive members of society. The award is made possible through donations made by Wallace Fujii ('54)
Ka'anapali Land Management, Corp.
The $1,000 Ka'anapali Land Management Scholarship has been awarded since 2009.
Sgt James Kusuda Memorial
Lahaina Fish Co
The Lahaina Fish Co Restaurant held its inaugural award in 2016.
Lahaina Hawaiian Civic Club
Lahainaluna Boarder's Association
Lahainaluna High School Foundation
Makana Aloha Foundation
Holly & Rob Manning-Homes & Land Magazine of Maui
Holly & Rob Manning-Homes & Land Magazine of Maui
James N Martin Memorial (1 year)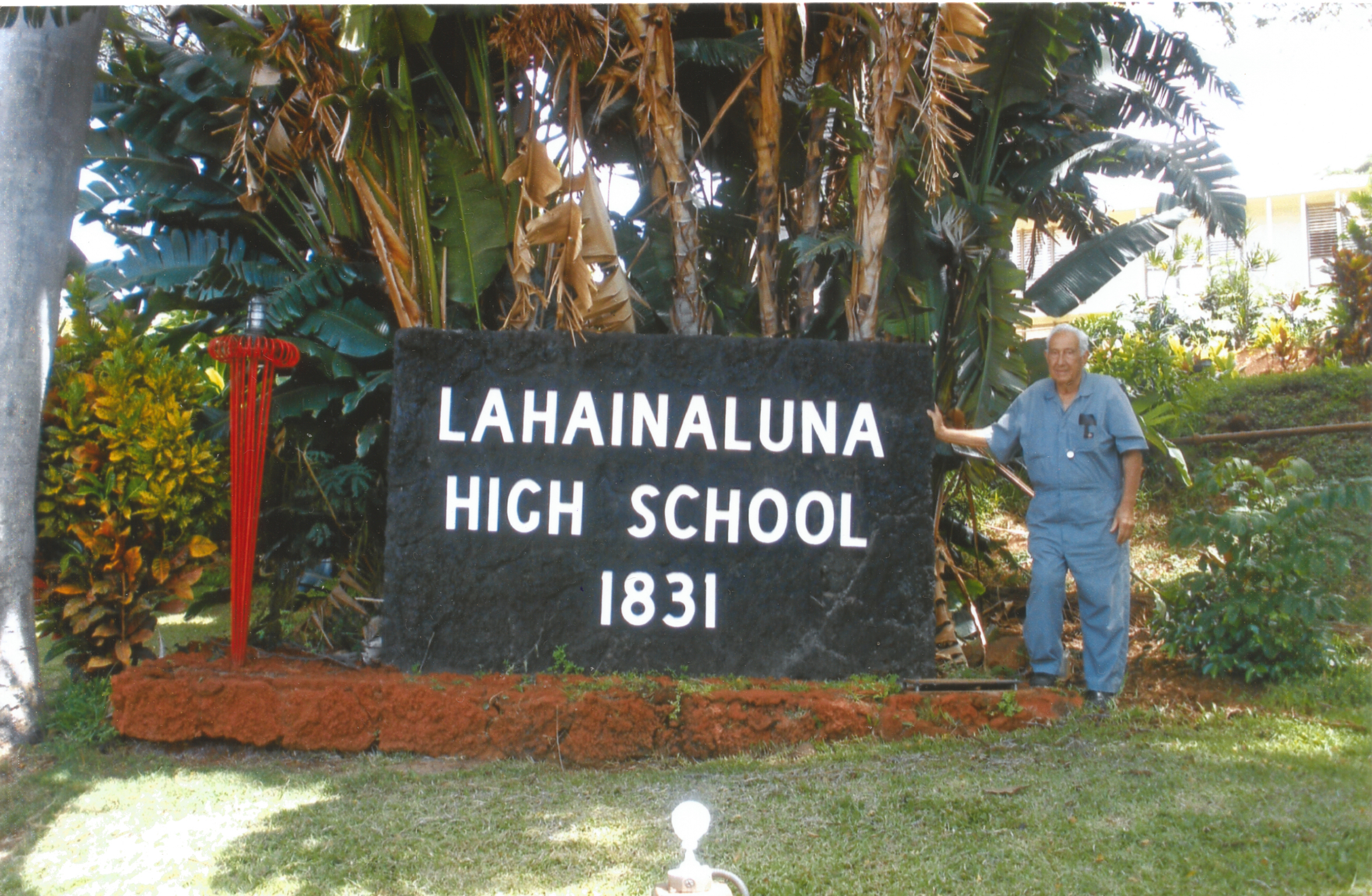 James N. Martin, at age 86, at the 50th anniversary of the sign's dedication. James passed away in January 2017. The picture was taken in 2016.
Mr. Martin taught Geometry and Machine Shop at Lahainaluna High School for twelve years. At Lahainaluna High School, the machine shop students provided school and community service while learning the trade of machinist under the advisor-ship of Mr. Martin.

The construction and completion of the iconic school sign that greets everyone who comes to Lahainaluna High School is one such service project. The sign was dedicated in 1966, followed by the installation of the torch, next to the sign. On the 50th anniversary of the insulation in 2016, the base was painted red.

This scholarship will honor Mr. James N Martin and his 30 years of teaching by encouraging students at Lahainaluna High School to continue their education beyond high school, and to assist with their financial needs. May the ever-burning torch of education continue to grow after you leave Lahainaluna.
Maui County Federal Credit Union
Mint Green House Scholarshsip - inactive
The Mint Green House Scholarship was a newcomer to the 2015 award cycle. The scholarship made a $500 available to a senior continuing their education in Health Services, Business Administration, Aviation & Air Traffic Control, or Second Language Studies. The scholarship is funded by four graduates; Eileen Joy Domingo ('05), Princess Karen Galano ('09), Jasmine Domingo ('12), and Daniel Galano ('13). In 2016, the award grew to $750.
Na Hoaloha Ekolu
Na Hoaloha Ekolu
Michael M. Nakano leadership Award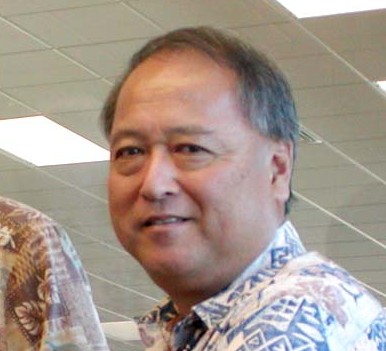 Karen Ancheta Pruitt - Women in Technology -inactive
The Karen Ancheta Pruitt Scholarship was created in 2015 and awarded (2) $1,000 scholarships to female seniors who were pursuing a career in the arts (graphic, animation, media, web design), engineering, math, science, or other technology fields. Karen is a 1997 alumni of Lahainaluna and attended George Washington University in Washington, D.C. Karen was the original web designer for the Foundation's first website. The scholarship was not awarded after 2015.
RVN Restaurant
Roy & Betty Sakamoto Renewable
The Roy & Betty Sakamoto Renewable Scholarship was created in 2011 by Maui realtors Roy (Class of 1960) and his wife Betty. The scholarship is intended to assist students that have financial need and who may not have a stellar GPA.
Click here to view a letter of gratitude from one of the scholarship recipients.
Alfredo Sarian Memorial
The Alfredo Sarian Memorial Scholarship was created in 2008 and has awarded $1,000 to a Lahainaluna graduate who plans to study agriculture, land management, or a related field of study every year. Alfredo "Fred" Pingkian Sarian died in December 18,2008, in Olowalu, at the age of 63. He was a wonderful father, friend, husband and uncle.
Tadashi Sato Memorial - inactive
The Tadashi Sato Memorial Scholarship was created in 2007 and awards a $1,000 scholarship to a senior who is planning on majoring in art, music, or related field. Tadashi graduated from Lahainaluna High School in 1942 and was a renowned artist. His scholarship is funded by his daughter and family members. The scholarship has been inactive since 2014.
Shelton 'Ohana Scholarship
This $1,000, renewable scholarship was established in 2017 by Rob and Louisa (van der Linden, LHS1973) Shelton as another way to "pay it forward" by providing financial support to aid graduates of Lahainaluna who are continuing their education. Born & raised in Lahaina by parents who chose to make Maui their home in 1948, Louisa thanks her alma mater for providing her with a solid education as it did also for Rob & Louisa's children (Jeff 1999, and Kelvie, 2002).
Rob has been involved with the Lahainaluna High School Foundation, which he joined at its inception in 2000, serving as president for 12 years. The Sheltons met while attending University of Washington where they both graduated with Business Administration degrees, and have held positions within the Maui visitor industry.
This scholarship is open to all seniors to apply, with a preference that the student has some experience in the performing/creative arts (music, dance, theater/stage) and who is pursuing studies in business, visitor industry, or the arts.
The Capt. M.C Boston & Harriet Shima ('50) Memorial Scholarship
Inaugural year: 2019
Steven R Strong, MD Memorial
H & K Takenaga Legacy
Inaugural year: 2010
The H & K Takenaga Legacy Scholarship began in 2010 and was created to honor the memory of Phoebe Toshikiyo Takenaga, Class of 1960. Phoebe attended Central WA College, where she graduated with honors in 3 years. She pursued her love of education and taught at Home Gardens Elementary School for 35 years.The scholarship was named after the parents of Phoebe's husband, Eugene.
Phoebe Toshikiyo Takenaga Memorial
Inaugural year: 2019
The Phoebe Toshikiyo Takenaga Memorial Scholarship was created in rememberance of Phoebe. Phoebe was born on Nov. 22, 1942 in Lahaina, Hawaii to Tadao and Chiyoko Toshikiyo. She graduated from Lahainaluna High School in 1960, and then left for the mainland to attend Central WA College. Always the scholar, she graduated in just 3 years with honors. She moved to Riverside where she met the love of her life. She pursued a career in education at Home Gardens Elem. in Corona for 35 years. Throughout her teaching, she touched many lives and has left a lasting legacy. Together with her family and friends Phoebe traveled extensively. She walked the Great Wall, rode gondolas in Venice and rode elephants in Thailand. Always the lifelong teacher, she often visited schools when she traveled. Of all her accomplishments, Phoebe's greatest achievements have been in the lives of her family and friends.
Territorial Savings Bank
Territorial Savings Bank
The Masters At Ka'anapali Hillside- Blaze Kalilikane Memorial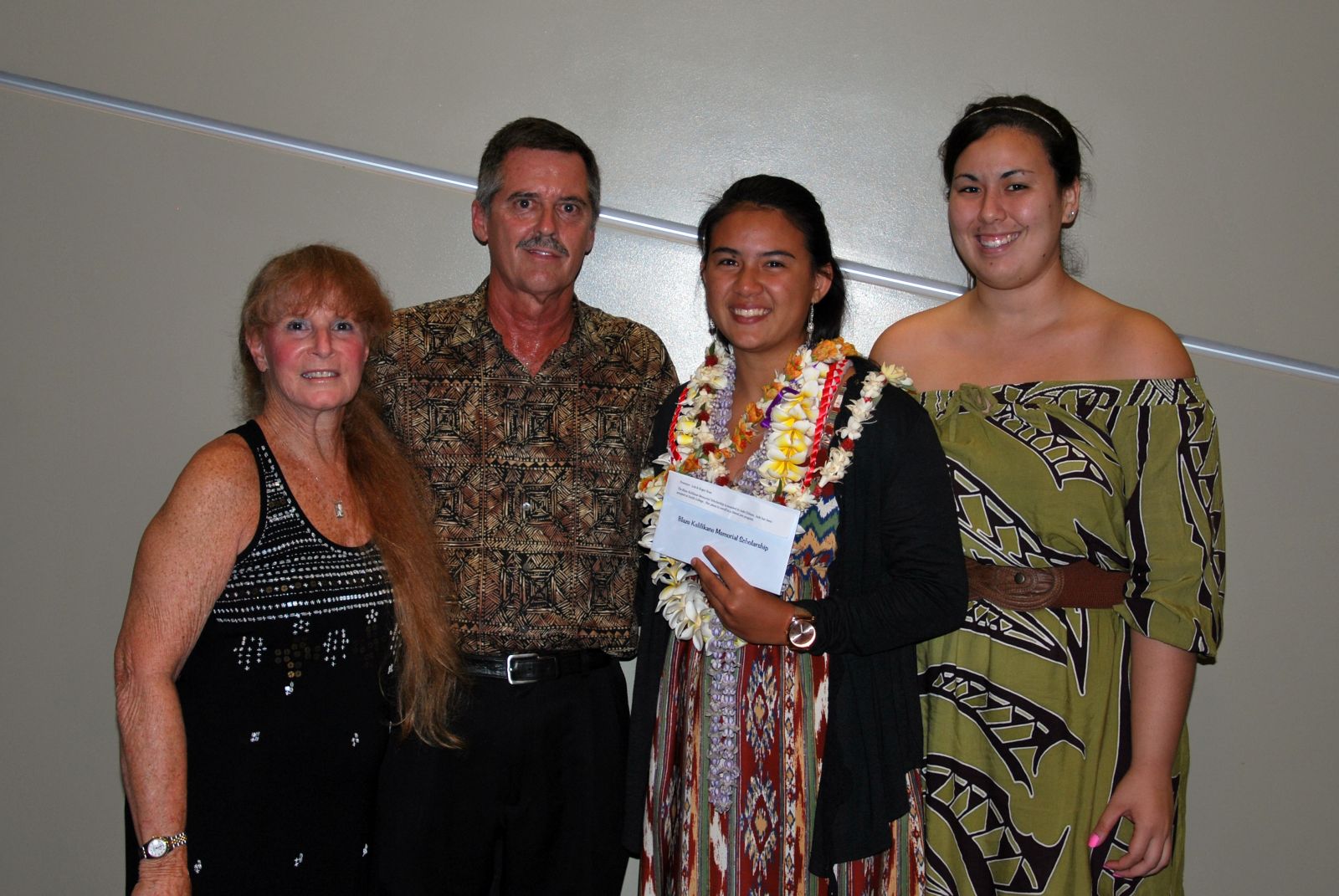 This scholarship was established though donations from the owners of The Masters at Ka'anapali Hillside and Blaze's family, to, provide a memorial for Blaze, a 2009 LHS graduate and dedicated employee of the The Masters. Blaze died at the age of 20 in an automobile accident in Olowalu, on December 19, 2012.
The inaugural Blaze Kalilikane Memorial Scholarship 2013
Sentry Tournament of Champions
TS Restaurants
There are four restaurants on the West Side that are members of the TS family, Kimo's, Duke's Beach House, Leilani's, and Hula Grill.
Each restaurant has been providing a $1,000 scholarship to LHS grads since 2009. TS Restaurants were named the 2016 Legends of Lahainaluna Business Catagory award winner, due to their many years of community philanthropy.
Valley Isle Maui Community Federal Credit Union
Valley Isle Maui Community Federal Credit Union
Wo Hing Society
Inaugural year 2019